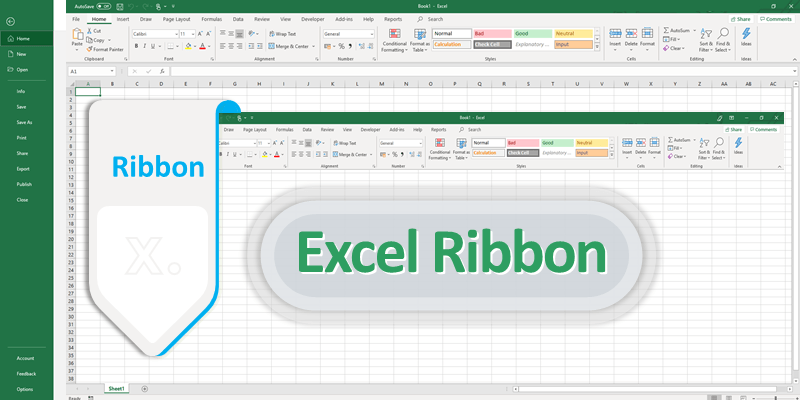 Excel ribbon is the navigation menu in Excel, shows all the Controls and Commands in different Tabs. All commands available in Excel are grouped and provided in separate tabs of Ribbon based on the functionality to deal with verity of the Objects in Excel.
There are several Tabs in Excel: File, Home, Insert, Draw, Page Layout, Data, Review, View, Developer, Add-ins, Help,etc. You can see the built-in command bars are grouped together in each ribbon based on its functionality.
Parts of the Excel Ribbon:
Excel Ribbon Can be divided into several Parts. Here are the Different parts of the Excel Ribbon.
BackView: BackView Of the Excel Ribbon Contains File Information, Open, New, Save, Export and Options.
Quick Access Toolbar: Top Left Conner of The Excel Ribbon Contains Quick Access Toolbar. You can add any command to this Ribbon Part to quickly access the command bars.
Ribbon Tabs: Excel Ribbon Contains Ribbon Tabs to show the Excel Commands. Excel is grouped all the commands into these  ribbon for easy access.
Groups: All the similar commands are grouped into one group in each Tab. Every Excel Ribbon Tab contains one or multiple Groups
List of Tabs in Ribbon
Here are the list of Tabs available in Excel Ribbon Menu. Each tab contains verity of Excel commands divided into different groups in Excel Ribbon Tabs.
File Tab: All the commands related to Excel File to Save, Open, Close and Change the Excel Options
Home Tab: Home Tab contains the standard Excel Commands. Most of these are related to Formatting and Copy Paste Commands. For Example: Copy,Cut,Paste,Font, Bold,Alignment,Number Formatting, Insert, Delete,etc.
Insert Tab: Insert Tab contains the commands to insert into Excel File. You can insert Table, Pivot Table, Picture, Shapes, Icons, Charts and Symbols.
Draw Tab: This is newly added tab which provided with drawing tools.
Page Layout Tab: All the commands related to Page settings and Layouts, Printing Options can view in Page Layout tab.
Formulas Tab: You can view Excel Functions Library and Defined Names, Auditing and Calculations commands in Formulas Ribbon Tab.
Data Tab: Data Tab contains commands for connecting and importing Data, Sorting and Filtering Data Commands, Data Validation, Text to Columns, Remove Duplicates and Outline commands.
Review Tab: It contains Spell check, comments and protection commands.
View Tab: You can view Workbook Views, Show, Zoom, Window and Macros from View Tab.
Developer Tab: All the Commands related Excel VBA Development can be found in the Developer Tab.